Attention all ice cream lovers! Stroll into our store and be greeted by the sweetest staff in town. They'll help you find the perfect ice cream flavor that will make your mouth water. We provide more than ice cream in the RTP area — we spread joy to those who want to fill their lives with as many smiles as possible.

Fresh Ice Cream Made Daily
You've found your one-stop shop for ice cream near Cary, North Carolina. At Howdy Homemade Ice Cream, we're here to serve you. We've got something for everyone here — from the adventurous to the traditionalist to the kid in all of us we never outgrow — so come on in and say hi.
Each Scoop Made From the Highest-Quality Ingredients
We're dedicated to providing our community with the freshest and highest-quality ice cream, using only the best ingredients and making our ice cream from scratch daily. You can taste the difference — our ice cream has a smooth consistency and unbeatable flavor.
Scrumptious Flavors Everyone Can Enjoy
Our selection is wide and varied, so you'll always have flavors to try, whether you prefer a classic vanilla cone or want to experiment with a unique taste like Dr. Pepper Chocolate Chip or S'mores. All our flavors are made fresh every day in small batches to ensure you get the best-quality cone possible.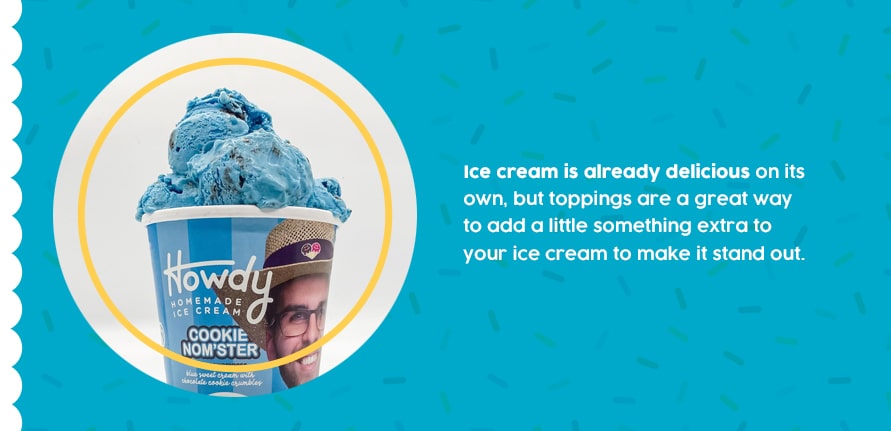 Delicious Toppings for Unbeatable Flavor Combinations
Ice cream is already delicious on its own, but toppings are a great way to add a little something extra to your ice cream to make it stand out. Make your Howdy Homemade ice cream even more delicious with assorted toppings, from sprinkles and candies to nuts and whipped cream. Just think of all the different ice cream flavors you can create!
Catering and Delivery
If you want catering or delivery options, we can help with that too. Our catering services include everything from birthday parties to corporate events, while our delivery service will bring your favorite ice cream flavors straight to your door so that you don't have to leave home.
Our Mission
At Howdy Homemade Ice Cream, we believe everyone has something special to offer and deserves the opportunity to be part of a team.
Our mission is to help people with intellectual and developmental disabilities (IDD) find a place to use their extraordinary talents and abilities and feel valued for who they are. We create an environment where everyone feels included, respected and empowered. We also aim to inspire and motivate countless other companies to grow their special needs payrolls.
Visit Our Ice Cream Shop Near Raleigh Today
We've got something for everyone. Whether you're looking to satisfy your sweet tooth or see what we're all about, we hope you'll stop by our ice cream shop. Everyone has the potential to be great, and we want to inspire you to realize that power.
Visit our shop for a premium scoop, then join our ice cream membership club to discover a new world of possibilities!
Contact Us
Hours: Mon-Sun 11am – 9pm
370 S Walker St #123,
Cary, NC 27511