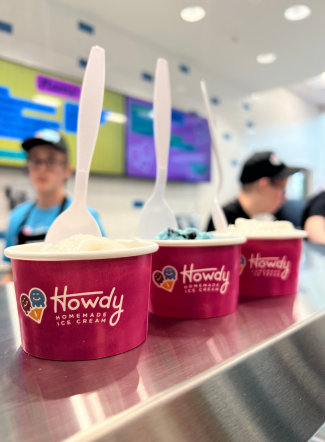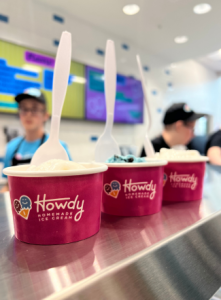 Cary, North Carolina, is a bustling community full of families, well-known restaurants, and great entertainment. Located in the center of The Triangle area, Cary attracts a large number of residents and visitors alike. Howdy Homemade Ice Cream adds to the town's welcoming vibe by offering quality desserts from a locally run business with an inclusive mission. Our Cary, NC ice cream shop is located right down the street from Downtown Cary Park, Cary Regional Library, and the Cary Arts Center. You can spend the day visiting these fun sites and then close out the day with a sweet treat, or two!
Speaking of sweet treats, let's talk dessert (after all, it's what we do best!). We know how much guests love having dessert to look forward to at any event they're attending. Whether it's at a restaurant, local event, or private party, people always want to know what sweet options they can choose from to finish the day. When catering events, it's essential to include an array of full-of-flavor desserts. Having ice cream catering with a variety of flavors and toppings helps to please all of your guests' palates.
Howdy Homemade Ice Cream is ready to elevate the dessert experience at your next event. We're on a mission to change the dessert landscape one event at a time—learn how!
Fresh Homemade Options with
Ice Cream Catering
As far as unique ice cream shops go, we have a passion for creating quality products with homemade flavor. When catering events, we pride ourselves on providing fresh options without sacrificing the quality of food. If you go with dessert catering options such as pre-made baked goods, their long shelf life means the freshness might miss the mark by the time your guests have a taste. Why have old food when you can have the cream of the crop! Our local Cary, NC ice cream is churned with fresh, high-quality ingredients—your guests will be able to taste the difference!
We also provide customization so you can order to your heart's content. Serve treats at your next event that everyone will love! No matter their favorite flavor, desserts like ice cream allow you to provide your guests with a lot of options. No two palettes are the same – as a result, our menu offers various flavors, from classics like chocolate and vanilla to birthday cake and Dr. Pepper chocolate chip. Get creative by adding enticing toppings to finish off your decadent masterpiece and let your tastebuds savor in the delicious creation.
Check out our full list of scrumptious flavors below:
Vanilla

Chocolate As All Get Out

Strawberry
You choose the way you want your ice cream served at your event. We have ice cream carts (get the selfie stick ready!), trucks, or trailers to add an extra layer of fun to the mix. You can also have ice cream packaged as party favors or given out as an appreciation gift to thank your guests for coming. Who doesn't want freshly made ice cream to take home with them? Give them something to enjoy even after the event is over!
When you choose Howdy Homemade Ice Cream to cater for your next event, not only are you enjoying a delightful scoop, but you're also helping to foster inclusivity within the local community.
Catering Events
With Inclusivity at the Forefront
At our unique ice cream shops, we strive to create jobs for those with intellectual or developmental disabilities (IDD) who struggle to find work otherwise. This gives back to the IDD community by allowing our employees to have a sense of independence and an opportunity to have confidence in their capabilities. Our goal is to inspire and motivate other companies to expand their special needs payrolls too!
We design our operations to make sure each of our employees can perform their responsibilities without any difficulties. They take pride in their work and make sure that every customer leaves with a smile on their face (and delicious ice cream in hand!). Allowing your guests to be part of the bigger picture and help spread awareness throughout the area will help the IDD community continue to thrive.
Ice Cream Catering
Saves Time and Effort for Easy Planning
Forget about handling all of the catering aspects of your corporate event, party, or wedding. You've got enough on your plate, let us help you add that final touch to your event. Our ice cream catering superheroes will take care of all your treats. Share your event details and dessert preferences with us, then we'll take care of the rest! By having a caterer that specializes in desserts, you can be sure to have a tasty experience for all your guests to enjoy.
No need for you to figure out an elaborate dessert spread with all of the different components. Keep it simple with ice cream catering. With our array of homemade ice creams, we'll bring your vision to life for your special event. It'll be a night to remember, thanks in part to the sweet finale!
Support
Locally Owned Businesses
with
Cary, NC Ice Cream
For Cary, North Carolina events, why not leave the dessert catering to us? Don't add any unnecessary stress. With Howdy Homemade Ice Cream, that's one thing you can check off your event planning to-do list! You should take pride in knowing that you'll be supporting a local business, helping the IDD community, and serving the best Cary, NC ice cream at your event. Transport your guests to the nostalgic bliss of being able to craft their favorite ice cream treat (complete with all the toppings that their hearts desire!).
Ready for us to serve up our scoops at your event? Find out more about our ice cream catering services and how you can satisfy your guests' sweet tooth cravings.