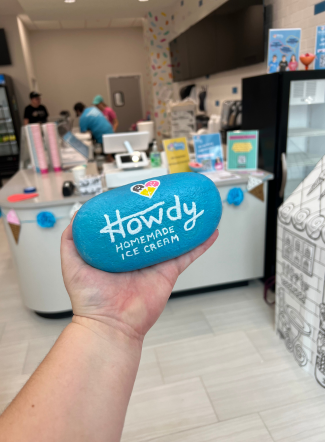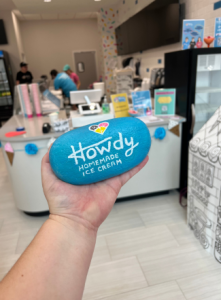 It's the little things in life that bring those magical moments of bliss. This can be as simple as taking a walk through the park and enjoying nature, spending time with friends and family, or getting involved in a new hobby that you've always wanted to try. Creating joy means taking time out of your day to do something that makes you and those around you feel happy – it's the little things in life that often matter the most.
Each month at Howdy Homemade Ice Cream, we host an event dedicated to creating joy called Sprinkles and Sparkles. Through community involvement, costume characters, and plenty of magical moments, we're able to make a sweet impact at our Raleigh area scoop shop. Want to learn more? Keep reading for all the details!
Creating Joy
with
A Moment of Magic
Do you have some princes or princesses at home who love to dress up in costumes? One Saturday a month, Howdy Homemade Ice Cream partners with A Moment of Magic to create a fun and interactive experience with fan-favorite characters for an event that'll leave a lasting memory. Stop by Howdy Homemade Ice Cream in The Triangle area, where our Sprinkles and Sparkles event will be set up at the front of the shop.
We encourage attendees to dress up in costumes and enjoy magical moments with our enchanting characters. There'll also be arts and crafts along with coloring pages to spark everyone's creativity. The event lasts for about an hour and a half, with photo opportunities and conversations with the characters. Each month we plan to bring on new and exciting characters to visit the shop for Sprinkles and Sparkles—so mark your calendars!
It's All About
A Moment of Magic
At Howdy Homemade Ice Cream, we're always looking for new ways to make a positive impact through community involvement. One way we do that is through partnering with organizations that align with our mission. For our Sprinkles and Sparkles event, we teamed up with A Moment of Magic for a day full of magical moments.
A Moment of Magic is a program with college-age students who volunteer at children's hospitals, schools, and other events as popular costume characters. They're on a mission to inspire vulnerable and underserved children through fun and engaging social wellness activities. Their message empowers children to be strong, brave, and fearless—just like their favorite characters! You don't need a crown or tiara to look and feel like a hero.
How did it all begin? Once upon a time, in December 2014, Kylee McGrane had the idea to dress up like a princess and visit local children's hospitals. She realized there were no other organizations serving children solely through volunteer work. She recruited her college roommate Maggie McAndrew to give a helping hand, and the rest is history!
As of 2021, A Moment of Magic has 29 chapters around the nation and has served more than 100,000 children. Now that's what we call magical moments! Once we heard about this organization and its story, we knew we wanted to create something magical within our local community. At Howdy Homemade Ice Cream, we believe that making an impact, no matter how big or small, can make a difference in so many lives. For us, that starts with the IDD community. We're all about providing equal opportunities and creating a welcoming environment for all individuals.
Enjoy Ice Cream
in Support of the
IDD Community
The magical moments created at our Sprinkles and Sparkles event really bring the community together. Our event encourages participation and involvement in support of the IDD community. The volunteers who come together for a great cause with A Moment of Magic demonstrate the power and impact of true community involvement – they believe that even the smallest acts of kindness can create change.
Since arts and crafts activities help to develop physical, social, and emotional skills, we knew we wanted to create our Sprinkles and Sparkles event around creativity. These activities can help with fine motor skills, appreciation of art and culture, enhance self-expression, and boost self-confidence and cognitive development. Among all of these, the greatest lesson of all is creating a sense of inclusivity and acceptance.
The way these events help children are the same way we strive to make an impact on the IDD community. We empower the individuals who work at our ice cream shop to gain confidence by earning their own money, strengthening interpersonal skills, and making new friends along the way. Our employees are superheroes who we look up to on a daily basis!
Community engagement demonstrates the power of acceptance and creates an inclusive environment for all—employees and customers alike. Our shops are serving up delicious ice cream scoops that help support the IDD community individuals employed at our stores. Stop by and see the magical moments for yourself!
Experience
Magical Moment
s through
Community Involvement
We love dreaming up magical moments and creating joy as our employees and customers enjoy ice cream from our scoop shop. Howdy Homemade Ice Cream is excited to continue to put on fun events like Sprinkles and Sparkles in partnership with A Moment of Magic. It's important to us to spread awareness and advocate for the IDD community. The more we can bring people together through community involvement, the more magical moments we can create for everyone involved.
Not only will you be supporting those in the IDD community by visiting our ice cream shop, but you'll also be trying delicious homemade ice cream. Our menu is full of flavor and smiles, with classic flavors as well as delicious limited-edition treats. Will you choose classic vanilla or chocolate? How about cinnamon roll or Cookie Nom'ster? Find your magical moment of pure happiness one scoop at a time. We can assure you that you won't be disappointed!
Learn more about Howdy Homemade Ice Cream's commitment to the IDD community by visiting our website. We can't wait to serve you a delicious dessert for your own magical moment!