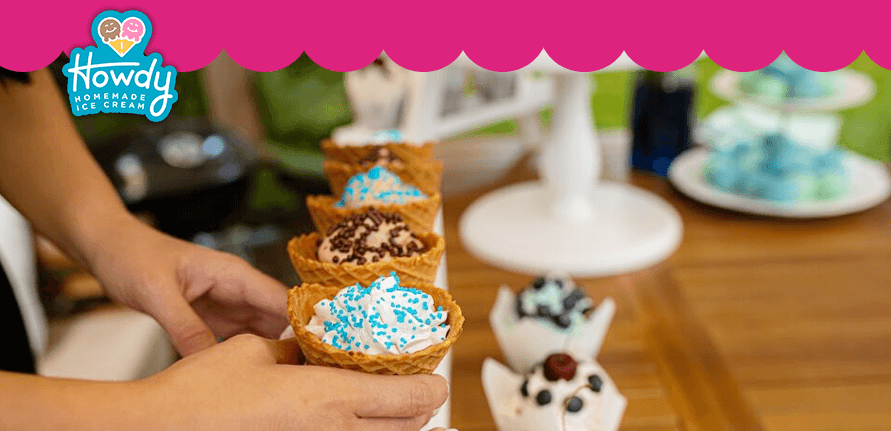 If you're hosting an event, ice cream is the perfect way to entertain. It's a refreshing, sweet treat that's super customizable. Plus, it offers a ton of opportunities for fun games, themes and decorating ideas that can take your event to the next level. Ice cream socials are sure to entertain families, employees and anyone in attendance!
Serving ice cream is especially easy to pull off when you work with a mission-driven catering team like the one at Howdy Homemade Ice Cream. We've put together some fun ice cream event ideas to give you inspiration and bring smiles to everyone at your ice cream party!
1. Create a Theme
Ice cream is the ideal centerpiece for themed events. You can pick flavors, toppings and utensils that match your colors, and your decorating options are practically endless. Some fun ice-cream-related themes include:
Summer socials: Give everyone a tasty way to cool off with a summer-themed event full of sunshine, beach balls and yard games like cornhole or bocce ball.
Here's the scoop: Make an announcement with an ice-creamy backdrop. It works well for corporate events, family updates and much more.
A snowy soirée: It's never too cold for ice cream. Host your frozen festivity with polar-themed decor and plenty of cool treats.
Ice cream shoppe: Go old school with a 50s-style ice cream parlor, complete with stripes, pastels, root beer floats and old-timey music.
2. Open a Sundae Bar
Let your guests DIY their treats with an ice cream station for your party. Put your ice cream containers on ice and surround them with toppings, such as:
Nuts
Sprinkles
Whipped cream
Fresh or dried fruit, like kiwi, strawberries, bananas and maraschino cherries
Caramel, strawberry and fudge syrup
Small candies
Cookie crumbles
Coconut flakes
Salty snacks like chips and pretzels for contrast
The possibilities are truly endless! Your guests can mix and match, and you don't need anyone to hand out scoops. If you're unsure about keeping your ice cream cold, reach out to us! As ice cream experts, we can help you avoid a melted mess during your event.
3. Add a Float, Milkshake or Ice Cream Sandwich Bar
Pair your offerings with one of these specialty treat ideas for an ice cream party:
Floats: Grab some classic sodas — like root beer and orange soda — to pair with your ice creams. Vanilla ice cream works great for floats, but you can get creative with countless float recipes and flavor combos. Add two scoops of your ice cream to a glass and pour your soda over the top. Add your toppings and enjoy! You can even give your guests "recipes" to order if they're not sure what to make.
Milkshakes: If you've got a sturdy blender and some milk, you can offer your guests made-to-order milkshakes. Add about a quarter cup of milk for every cup of ice cream, along with any syrups or mix-ins you like, and you've got a creamy, dreamy milkshake.
Ice cream sandwiches: Offering this treat is as easy as adding cookies to your shopping list. Bonus points if you get them from a local bakery! Pick two cookies and sandwich a hefty scoop of ice cream between them. You can even roll them in sprinkles or mini chocolate chips for a fun finishing touch.
4. Add a Photo Booth
Instagram-worthy ice cream creations deserve a good backdrop. Create a photo frame that matches your theme and come up with a clever hashtag. This simple addition is a great way to make sure your event gets some publicity, which is especially important for businesses, cities and schools.
5. Make an Ice Cream Truck
You don't need a food truck for this ice cream party idea — or even a driver's license. Find a wagon or a rolling cart and decorate it with cardstock, streamers and other fun decorations. Top it off with a portable speaker or a smartphone playing an ice cream truck jingle. Load up your ice cream and make rounds during your event to ensure everyone's got a cone in hand.
6. Hold Ice Cream Games
Adults and kids will appreciate a rousing ice cream-themed game. Try one of these fun activities:
Pin the cherry on the sundae: In this version of a party classic, each player gets a cherry with tape or velcro on it and wears a blindfold. After a few spins, whoever gets closest to pinning the cherry at the top of a poster of an ice cream cone wins!
Sundae eating contest: You can hold an eating contest by speed or by volume. Whoever eats the most in a minute or whoever finishes their sundae the fastest wins.
Guess the flavor: Line up a few different flavors in front of your blindfolded players. Feed them a bite and tally up how many they get right.
Ice cream cone relay: This activity is fantastic for team building. It works like an egg-and-spoon relay. Find a ball that fits on top of an ice cream cone — but not too snugly. Have players usher the ball to the finish line, passing it to the next person in line when they reach the finish.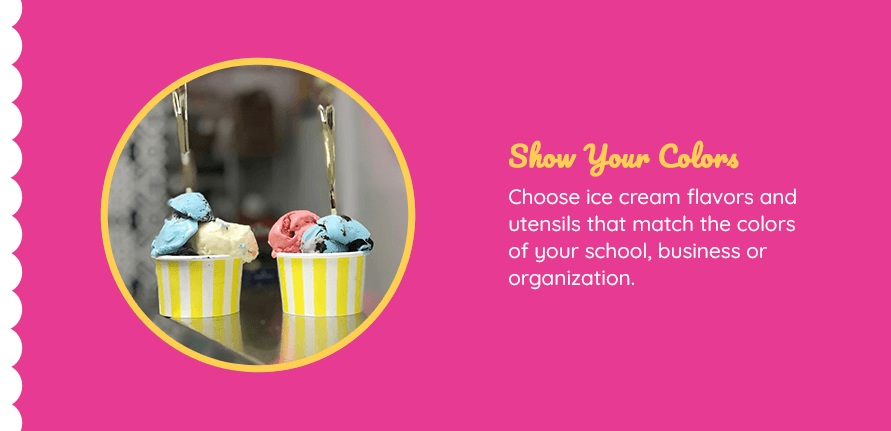 7. Show Your Colors
Choose ice cream flavors and utensils that match the colors of your school, business or organization. Try our vibrant Cookie Nom'ster for bright blue or our rainbow-dotted Birthday Cake flavors to add some color to your event. You can also stick with classic flavors and add more color through your bowls, spoons and napkins.
8. Make Ice Cream Hor D'oeuvres
Get fancy with these bite-sized treats, perfect for handing out as people walk in or from your ice cream "truck." Get a small scoop or spoon and make your ice cream balls about the size of a cake pop. Dip it in sprinkles, set it on wax paper and insert a popsicle stick. Pop them back in the freezer until it's time for your ice cream party.
9. Pre-Scoop Your Ice Cream
Whether you're handing out bowls or setting up a sundae bar, scooping out the ice cream can slow things down. Save yourself some time by pre-scooping your ice cream. Organize them by flavor and grab some tongs to build your guests' treats.
10. Give Your Event a Mission
Make sure your event does as much good as possible. If you don't already have a goal, consider raising money for a good cause and working with community-oriented businesses. Hire a local musician, get cookies from a local bakery and source your ice cream from a local shop.
If you're near Cary, North Carolina, consider Howdy Homemade Ice Cream, where we work hard to support the special needs community while making everyone feel welcome and valued. We employ individuals with intellectual and developmental disabilities (IDD) and encourage other businesses to do the same.
Put on the Tastiest Event With Howdy Homemade Ice Cream
Whatever your event looks like, our sweet treats and even sweeter staff can help you make it something to remember. We're a non-profit ice cream shop in Cary, North Carolina, with a mission to mentor and train people with IDD with the power of smiles and amazing ice cream. Stop by our location for a taste test, or reach out to us today to set up a catering order!