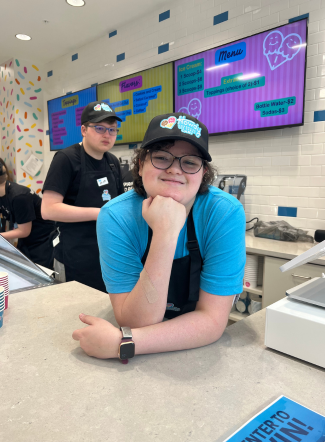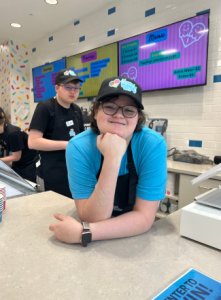 When it comes to delicious desserts, you can find just about anything in Raleigh, NC! But if your sweet tooth has you frantically searching for "homemade ice cream near me" or "fresh local ice cream Raleigh," you can count on Howdy Homemade Ice Cream to satisfy those cravings. We only use high-quality ingredients for our ice cream, milkshakes, and sundaes, so you know you're getting the best of the best.
Our fresh local ice cream shop serves up refreshing ice cream while also creating equal opportunities at work by fostering an inclusive work environment. Inclusivity plus homemade ice cream—what more could you ask for? Keep reading to learn all about who we are and our mission to make a change one scoop at a time!
Why We Have the
Best Ice Cream in Raleigh
If you're looking for the best ice cream in Raleigh, Howdy Homemade Ice Cream in The Triangle area will be your new favorite spot! Bring the whole family in to enjoy our various flavors with something for everyone. You'll only taste high-quality ingredients in our ice cream! Take your tasty treat to the next level with toppings that'll make your taste buds sing.
Which of our delightful flavors (or two or three!) will you choose? With fun flavors like Dr. Pepper chocolate chip, cinnamon roll, and birthday cake, it'll be hard to pick just one! Stop by our shop to taste-test the best fresh local ice cream Raleigh has to offer.
If you're planning an event that needs delicious desserts, Howdy Homemade Ice Cream also provides catering services for local Raleigh, NC events. Whether it's a work event, wedding, or private party, everyone loves ice cream! Put a smile on your attendees' faces with good old-fashioned homemade ice cream.
Our awesome team will come to your event ready to serve our ice cream to your guests. You can have the ultimate, customized ice cream experience. We can provide ice cream trucks, carts, or trailers with bright and fun colors (talk about a great photo-op!).
You can also thank your guests for coming with an extra special parting gift. We'll bring ice cream party favors that attendees can take home to remember the fantastic event. Give them a sweet treat they can enjoy beyond the festivities.
When you choose Howdy Homemade Ice Cream for a scoop of fresh local ice cream or to cater for your next event, you're also supporting inclusivity within The Triangle area. Yes, you read that right, enjoying ice cream while making a difference. Here's how we do it!
How We're
Fostering an Inclusive Work Environment
At Howdy Homemade Ice Cream, our main focus isn't on profits. We've made it our mission to focus on employing people in the IDD community to support inclusivity in the workplace. By hiring employees with intellectual or developmental disabilities, we're setting an example for other businesses to be more inclusive too.
Our goal with this is to create more jobs for those with intellectual or developmental disabilities who struggle to find work. This way, more people with IDD can become employed and have equal opportunities at work to thrive. It's essential to give the IDD community a chance to feel the self-confidence and independence of earning their own money. We want to inspire other businesses to expand their special needs payrolls!
Howdy Homemade Ice Cream's location in The Triangle area is the first fresh local ice cream shop that's entirely non-profit, giving back to the IDD community. We've gone above and beyond to make a difference. The limits are endless with what we can accomplish with our inclusive business backed by the best team.
Since our Raleigh store aims to be more inclusive, that means accommodating our employees at work so they can perform their jobs without difficulty. We took it a step further by putting an adult changing station in our store for employees and customers alike to have the added convenience regardless of ability or age. This is what sets us apart from the rest!
Connecting with the Community with
Delicious Desserts
Phillip Lin, owner of Howdy Homemade Ice Cream's location in The Triangle, is living his passion for helping his local community. Inspired by his mother to make a difference in the world, he's making a lasting impact to honor her memory. At first, he wondered how he could do this, but over time he discovered how to give back in a big way.
After giving to charities and non-profits in the past, Phillip questioned where his money went and if it was truly making a difference. He decided to take matters into his own hands after being inspired by hiring someone with IDD to work with Catering By Design. This led to a conversation with that employee's mother, who mentioned seeing a TV news story about Howdy Homemade Ice Cream—this was the spark he needed.
When Phillip decided to franchise with Howdy Homemade Ice Cream, he wanted to support those with IDD and give them the opportunity to work in a job that pays fair wages. He believes people with special needs deserve to have a career they're proud of. His goal is to train and mentor them to improve their skills and reach their full potential, whether that means staying at the ice cream shop or moving on to new opportunities.
Support Our
Fresh Local Ice Cream
Mission
When customers come into our Howdy Homemade Ice Cream shop, our team works hard to ensure everyone has a smile. Our customers love supporting our team members and stopping in regularly to get their sweet treats. The more people who learn about our mission, the more we can spread the word about making a difference.
Make sure to stop by our shop for the best ice cream in Raleigh, where you know you'll be making an impact in the community and savoring fresh local ice cream. Visit our website to learn more about our mission. We can't wait to see you soon!