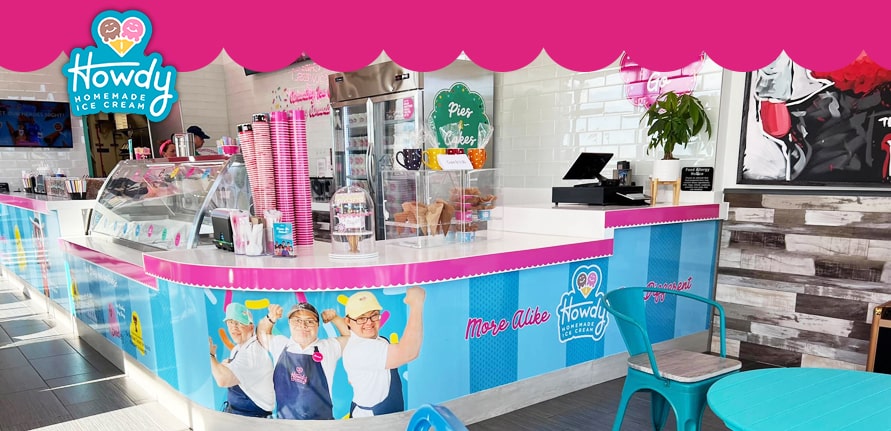 Howdy Homemade Ice Cream is excited to announce its grand opening in Cary, North Carolina. We are passionate about serving our community — what better way than through ice cream?
Howdy Homemade Ice Cream wishes to create an environment where everyone feels safe and valued. Come visit our friendly staff at our storefront and satisfy your sweet tooth!
A Sweet Treat for All Ages
There is truth in the saying, "We all scream for ice cream!" Our homemade ice cream is made fresh daily with the highest-quality ingredients. From a traditional vanilla cone to a mountain of cookie dough ice cream, we'll surely have a flavor for everyone.
If you are unable to come to us, let us come to you! Howdy can also provide catering and delivery services for your next event. We can cater — but are not limited to — the following events:
Corporate events: Whether surprising your employees with a treat or hosting an ice cream social for a holiday party, let us help! Ice cream is a great way to express your thanks for all their hard work.
Parties: You handle the guest list, and we'll handle the treats! We can cater any and all birthday parties, baby showers, family gatherings and more!
Weddings: Looking for a fun wedding favor option? Our delicious ice cream can be your wedding dessert — or main course!
The Howdy Mission
At Howdy Homemade Ice Cream, we are a nonprofit company that offers employment opportunities for individuals with intellectual and developmental disabilities. We wish to transform our company to be more inclusive and reduce the national special needs unemployment rate in America. In doing so, we aim to inspire other companies to do the same.
Howdy is passionate about serving the community with a smile. Every ice cream bowl or cone we sell contributes to our goal of giving back to the special needs community. We have partnered with several organizations to share the love.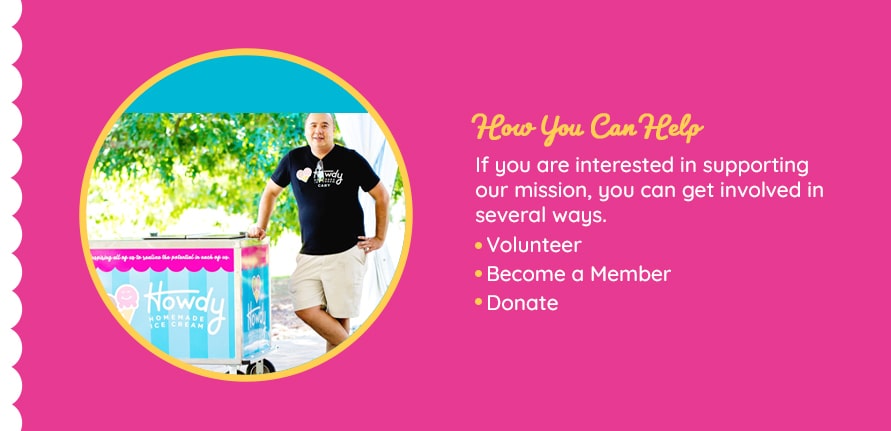 How You Can Help
If you are interested in supporting our mission, you can get involved in several ways.
Volunteer
You can help make a difference through our volunteer opportunities and work alongside our valuable employees. Fill out our contact form with your preferred area of interest — team guide, social media, marketing and more — to get started!
Become a Member
Howdy Homemade Ice Cream wants to create an environment where everyone can thrive. Becoming a monthly ice cream member can make this a reality. Choose from our Howdy Homemade Hero Club options to help support our cause.
Donate
Your contribution can help keep our goals alive! Any donations help us employ individuals with disabilities, provide necessary resources, run our equipment and cater events. We are grateful for your support!
Visit Howdy Homemade Ice Cream Today
Howdy Homemade Ice Cream shop is now open for business. Grab some friends or family members and stop by for a delicious treat. Contact us today for more information on catering or membership opportunities. We are looking forward to serving you!