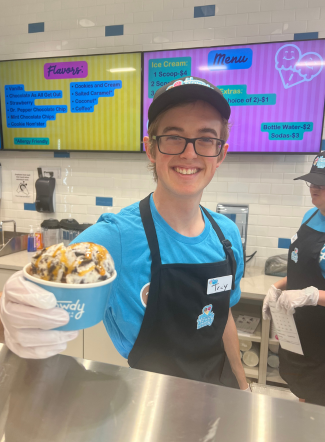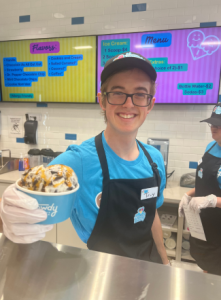 Here at Howdy Homemade Ice Cream, we're about much more than just serving you delicious ice cream. Although we've become pretty good at that (feel free to come into our shop and see you for yourself), we're also about making a difference in the lives of those with all different abilities in our community.
While an impact like that can come in many forms, our main objective is to employ and support individuals with intellectual and developmental disabilities. We're dedicated to not only giving them a space where they can embrace their strengths, but to creating processes that encourage active skill development on the job. We want them to feel like contibuting members of society – with an emphasis on equality and inclusion, we hope to accomplish just that.
To us, leadership in the workplace isn't just about leading our business to success but leading our employees into successful futures. And while no business is perfect, our employees sure do make us feel like we're close! With their continuous skill development and big wins that have us clapping (and eating an extra scoop of ice cream), we started giving some of our most innovative team members a well-deserved employee spotlight in "Hero of the Month."
Now, if you've never walked into our store (which if you haven't, you're missing out!) and heard us celebrating our "Hero of the Month," then you're probably wondering what that is. But don't worry! In this blog, we'll give you the Howdy breakdown as we share everything there is to know about the "Hero of the Month" and who the title belongs to for the month of March.
What Is "Hero of the Month?"
As we mentioned before, leadership in the workplace is special to us. So we're less concerned about revenue goals and more focused on ensuring our employees have what they need to feel motivated, encouraged, and valued.
We want to make sure our employees know this is a safe space to make mistakes – this is essential when it comes to creating a supportive environment. And when they're actively supported in skill development, they're one step closer to accomplishing their goals and making a brighter future for themselves – which is what it's all about!
This is why, when they perform a task well or get back up after making a mistake, we make sure they know we're proud of them.
When you remove all the sprinkles and hot fudge on top, that's what "Hero of the Month" is at its core! A chance to have an employee spotlight on someone we know has been doing their very best, bettering themselves and their community and moving forward even when things are challenging.
Wondering what we look for when choosing our "Hero of the Month" or employee spotlight? Well, we make a big deal out of asking for help! Like a really big deal. There's often the misconception in businesses that if anyone seeks help, it's a sign of weakness. We don't believe that's the case – we want to remind our employees that knowing when to ask for help is a sign of strength. It's the only way any of us will learn. Aside from this, we also value hard work, determination, and a good attitude.
Another thing we're looking out for? Showing the ability to lead. Past employee spotlight examples included Howdy Heroes who were shining examples to their fellow team members of how to serve up smiles to their customers while serving up support, courage, and determination for themselves. They were patient with learning, committed to their success, and supportive of those in front of and behind the counter. Sounds a lot like this month's "Hero of the Month." Shall we meet her?
March "Hero of the Month:" Rebecca Ryan
While so many of our amazing and helpful team members have shown tremendous progress, we're thrilled to announce that this month's "Hero of the Month" employee spotlight goes to Rebecca Ryan.
In the past month, Rebecca has come so far with regards to her skill development and personal goals. She's taken personal initiative to try tackling hard tasks on her own before looking for assistance. She then seeks help only when she feels she needs it. That's a huge step for Rebecca.
We've also seen her take a leap into leadership! She'll ask other co-workers to help her out and encourage them to follow her lead when she's confident in what to do. She's a very hard worker, even when she feels like she's having a rough day! Heroic, wouldn't you say?
Rebecca is also phenomenal at working with others. She always encourages those around her and treats everyone with kindness and respect.
We're incredibly proud of Rebecca. So if you happen to stop by and Rebecca is serving up some of our delicious flavors, make sure to give her a well-deserved congratulations!
The Heroics Don't Stop Here!
While we know this is only the start of all the great things she'll go on to do, we want to take another moment to congratulate Rebecca Ryan for receiving "Hero of the Month" for March! Because so many of our team members are dedicated to advancing themselves and their community, we take great care in who we choose to nominate for our employee spotlight.
It's because of the strengths Rebecca has demonstrated (leadership in the workplace, personal initiative, kindness, dedication, and more) that we knew this spot had her name all over it.
Rebecca has shown that when we carve out space for others to be seen, heard, supported, and valued, we create more opportunities for everyone and add to our community's beauty.
To learn more about our Howdy Homemade Ice Cream employees and their commitment to both the business and their community, make sure to follow our blog or stop by the store to see who our next "Hero of the Month" will be!
With so many of our team members doing amazing things, we're sure you won't want to miss the opportunity to congratulate them. Let them know you appreciate all that they do!