An ice cream social is a planned gathering with a theme centered around — you guessed it — ice cream! Invite your family, friends or co-workers to enjoy a cold, sweet treat in the summer heat.
Still trying to figure out where to start? Check out Howdy's guide to get the scoop on hosting an ice cream social.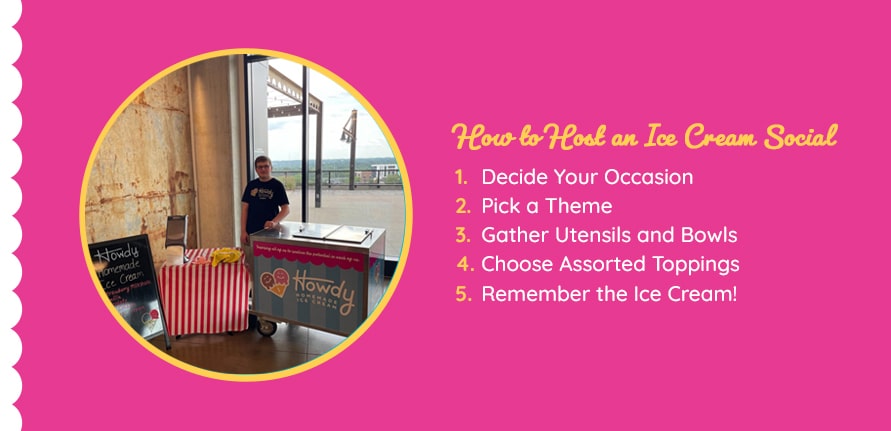 How to Host an Ice Cream Social
Hosting an ice cream social is a fun party idea with only a few steps to remember. Skip the full meal and go straight to dessert!
1. Decide Your Occasion
The first step is to decide what the event is for. If you are hosting your co-workers, the supplies and overall theme will be different from a child's birthday party. Whatever the occasion, get an idea of how many people you will invite to ensure you stock enough ice cream.
2. Pick a Theme
Again, your guest list can determine your party's theme. However, some timeless options can fit any occasion.
Retro diner: Rollerblades, black and white tile, red diner booths — it's the ideal setting to enjoy an ice cream sundae. Decorate your living room or backyard as a retro diner, complete with a 1950s dress code.
Fun florals: Various flowers in colorful pastels can create a summery picnic backdrop for your ice cream social. This theme is simple and picture-perfect for the season.
Summer carnival: Turn your backyard into a carnival wonderland with games, pinwheels and ice cream, of course! This can be the ultimate birthday party theme for your child.
Holiday-specific: The Fourth of July is a popular holiday for summer and ice cream. Fully immerse yourself in the theme of red, white and blue, and end the event with some fireworks.
3. Gather Utensils and Bowls
Now that you have your theme, let's gather supplies! You can choose from several options to hold your sundaes, from classic tulip bowls to thrifted mason jars. Next, be sure to have enough utensils, including serving spoons for the ice cream and individual spoons for all your guests. Your bowls and utensils can be as simple or as detailed for the theme as you'd like!
4. Choose Assorted Toppings
Fruit, chocolate and syrups — the options are endless. Go to the grocery store and grab a variety of fun toppings for the ice cream sundaes. Oh, and don't forget sprinkles!
5. Remember the Ice Cream!
We all scream for ice cream! You may have some flavors in mind to supplement your theme, or maybe you prefer something simple to let the toppings steal the show. Either way, be sure to gather enough options for the whole group.
Supply Your Social With Howdy Homemade Ice Cream
What's an ice cream social without the ice cream? In the midst of planning all the details, it can be easy to forget the main event. Luckily, Howdy Homemade Ice Cream has your back. From traditional vanilla to unique cinnamon roll, we have flavors everyone will enjoy. Contact us to cater your ice cream social!