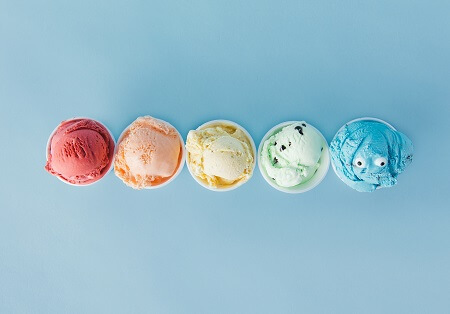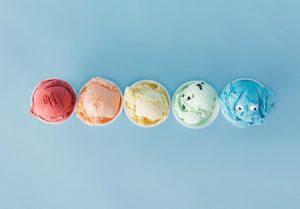 Ice cream cart catering is a great way to make your event memorable and fun! Not only is an ice cream push cart convenient, but it comes with affordability and loads of flavor options. People of all ages enjoy indulging in delicious frozen treats, which is why dessert catering is quickly becoming one of the most popular options available.
And people's appetites aren't waning. Recent stats show that catering companies are working hard to keep up with demand, with 78% of catering companies saying they expect to expand in 2023.
As the competition for catering heats up, knowing your options is key to pulling off a great event. That's why choosing ice cream truck catering offers some of the best benefits, from variety to convenience and affordability. With so many flavors, toppings, and ice cream options, there's really something for everyone.
Read on to learn more about why dessert catering is the way to go and how to find the best mobile ice cream cart desserts in Raleigh, NC!
What's
Ice Cream Cart
Catering?

Have you ever been to an event with an ice cream cart? If not, you're in for a treat. This popular catering option offers a unique way to serve treats your guests will love.
The typical ice cream truck catering can include either a food truck-style vehicle or a traditional cart with rolling wheels. Let's go over what each of these fun options has to offer.
Ice Cream Truck Catering
When you hire catering services from an ice cream truck company, you can have a full-size truck at your event serving up a selection of treats. Often, these companies will offer a variety of flavors and toppings that guests can choose from. They'll usually provide cups, cones, spoons, napkins, and any other necessary supplies.
Ice Cream Cart Catering
The traditional ice cream push cart gives your attendees a more traditional way to enjoy a frozen treat on a warm day. These carts are more compact and require less space than trucks, so they're perfect for smaller events or gatherings. They also offer a fun vintage feel that your guests will love.
Both options can bring a sense of nostalgia to your event. Whether you choose a truck or a cart, it's sure to be a hit! Plus, you can get creative with the menu and toppings. If you're feeling adventurous, offer unique flavors such as chocolate velvet peanut butter cup or throw in some dairy-free options. The possibilities are truly endless!
Where Can Ice Cream
Dessert Catering
Be Used?
Here's the great thing about ice cream—it's the perfect dessert for nearly any occasion! From weddings and birthdays to corporate events, ice cream catering is a great way to go out with a bang. Here are just a few of the many events you can cater with ice cream:
Weddings
Wedding receptions are the perfect time to indulge in a tasty, cool treat. A simple sundae bar or an ice cream cart can provide a delightful way for guests to enjoy dessert after dinner. Plus, it'll add some unique flair to your day!
Corporate Events
For corporate events, ice cream catering is a fun reward for employees and a simple way to say thank you with a sweet treat after a long day. And with a mobile ice cream cart, you can bring the fun right to the office!
Birthday Parties
Who doesn't love ice cream? A birthday party is a great time to offer a "make your own dessert" station and let the creativity flow. Imagine kids' eyes when a colorful ice cream truck catering business rolls up to your driveway!
Other Events
Ice cream catering is great for any occasion, from family reunions to graduation parties. With a variety of flavors and toppings, everyone will be sure to find something they love! It's an easy way to add some extra sweetness to any event.
Why Partner with Howdy Homemade Ice Cream's
Mobile Ice Cream Cart
?
At Howdy Homemade Ice Cream, we proudly bring the best Triangle ice cream to Cary, NC and beyond. Our commitment to helping individuals with intellectual and developmental disabilities is the foundation of our business. By connecting these incredible individuals with meaningful opportunities in our community, we can help promote inclusion and break down barriers!
When you partner with Howdy Homemade Ice Cream for your next event, our friendly team will arrive on-site with our mobile ice cream cart and start dishing out scoops! The benefits of working with us are endless:
Build Brand Awareness With Great Tastes
If you want to boost your company's exposure, working with Howdy Homemade Ice Cream can be a great way to do so. Our team will work with you to create treat combinations that perfectly complement your brand. You can even start your own sponsorship to create the ultimate experience!
Connect With Your Community

By hosting an ice cream event, you're showing your customers and supporters you care about the community you serve. It's a great way to express your gratitude and showcase your company's values in a fun and meaningful way.
Add Something Sweet To Your Next Event

When it comes to events, coming up with catering dessert ideas can be a challenge. So why not let the experts help?
Whether you're hosting an employee appreciation day or a family-friendly festival, Howdy Homemade Ice Cream will provide your guests with a unique and delicious experience. We're committed to creating quality treats that will bring a smile to everyone's face.
Get Involved with the IDD Community
At Howdy Homemade Ice Cream, we believe that giving back to the community is an integral part of our mission. We proudly partner with a variety of organizations dedicated to helping individuals and families with intellectual or developmental disabilities (IDD). By working together, we can positively impact the lives of those around us.
Enjoy the
Ice Cream Cart
Catering Experience

Are you ready to make your next event extra special? Let us bring the joy with our unique ice cream cart catering.
We provide delicious flavors, a fun and inviting atmosphere, and exceptional customer service for any occasion. We stock all our carts to meet your needs, so you don't have to lift a finger. Invite Howdy Homemade Ice Cream to your next event and give your guests an experience they'll never forget!