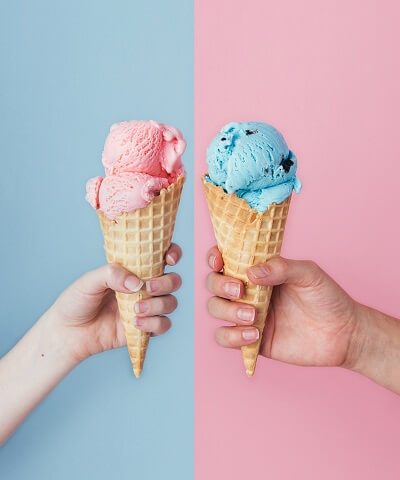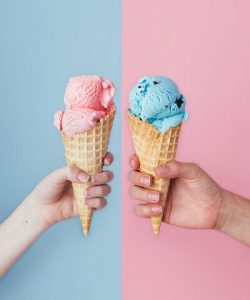 Unlike many businesses, here at Howdy Homemade Ice Cream, our primary purpose doesn't center around generating profit. Instead, we're committed to creating a more inclusive community in The Triangle. How? By providing quality ice cream served by members of the IDD community.
While providing employment opportunities to those in the intellectual and developmental disability (IDD) community may seem like a no-brainer to many of us, the truth is that only about 21.3% of people in the IDD community are actually employed. So when we opened our NC branch of the Howdy Homemade franchise, we decided to take things a step further. We became the only non-profit branch of the franchise and committed ourselves to accommodating the IDD community by creating true equality and diversity in the workplace.
We didn't only want to give this beautiful community of people a place to make a living, we also wanted to provide them with a place where they could thrive. A place where the backend and frontend processes could allow them to use their talents, sharpen and develop their skills, and of course, make the best fresh ice cream Raleigh has ever tried.
The way we support, embrace, and celebrate this community is just beginning. However, if you're new to the Howdy Homemade Ice Cream family and don't know much about our fantastic team members, then you're in the right place. In this blog, we'll share everything about the impact we're having and how you can help us make that impact even bigger.
Why We Started in The Triangle
The Triangle area of NC is special. It's a growing area where families are flourishing. And with so many prestigious universities and innovative biotech companies leading younger generations into ambitious futures, it's become an inspiration across the country. Raleigh was named the #1 city in 2022, after all!
It's a community that's alive, well, and looking to create a better future for everyone. So why wouldn't we start here?!
We knew that by starting in The Triangle we'd be putting down roots in a place already pushing toward equality and inclusion. We knew The Triangle would embrace our mission and become our team members' biggest cheerleaders as they learned how to build their skills (and their futures) in a team setting.
Simply put, we're here for our team, but we're also here because of you! We're serving fresh ice cream and providing opportunities for the IDD community in a spot that benefits residents and visitors in the surrounding area alike. We're here to join the fight for equality by shining a new light on it and teaching new ways to serve people of ALL abilities.
So whether you're in front of the counter or behind it, rest assured that we're confident we've found the best place to spread smiles while making change.
Our Promise to the
IDD Community
As we stated earlier, our commitment to creating an inclusive community centers around developing a thriving place of employment for those in the IDD community.
Here at Howdy Homemade Ice Cream, we've accomplished that by changing traditional business processes to ones more accommodating to the IDD community. We also determine the best practices to not only serve our customers but to improve the well-being of our team members. While our current processes were put into place before opening the store, we encourage customized approaches tailored to each employee's needs.
At all times, our goal is to create a sense of belonging in the workplace for every person who steps behind our counter. We believe that everyone, no matter their ability, has something special to offer. Some other ways we support our team members include:
Laminated Order Forms
The first thing we've done is create laminated order forms. Every time a customer comes in, our heroes (employees) physically fill out the order form before putting the information into the system.
That order form gets passed to the person scooping the ice cream, and then to the person who does the toppings or makes the milkshakes, depending on the order. Once the customer's order is complete, we can easily wipe off the information – the form is then ready to be used for another order. This process keeps everyone on the same page. It also cultivates a more independent environment and reminds every team member that they have a meaningful job.
Additionally, each flavor is assigned its own number so that someone who struggles to read doesn't have to read every ice cream name. And each topping has a capital letter from the alphabet – these numbers and letters are depicted on the order form to correlate with each flavor and topping option.
Committed Communication

To accommodate each of our employees, we always make sure to ask questions and listen. From our research and experience, we've found that including people with IDD in their decision-making is really important.
We give them a voice to tell us what accommodations they feel they need in the workplace. Once we know what they need, we take the next steps to make it happen.
This is only a small scoop of the steps we've taken to create true equality and diversity in the workplace. But based on the progress we've seen in our Heroes of the Month and the wins our team are always celebrating, we know we're moving in the right direction.
We're Just Getting Started

If you've ever had the sweet treat of stepping into our store, you'll know that our Howdy Homemade Ice Cream location has become a welcome addition to the inclusive community in The Triangle.
However, we hope to make an even bigger impact. How? By accommodating the IDD community in finding employment and the support they need to accomplish their dreams. We want to create a culture of equality and inclusion so employers everywhere can start creating a sense of belonging in the workplace for the IDD community. Not just here in The Triangle, but all across the country. And if you can, we'd love for you to support what we do.
You can stop in for a delicious scoop of our homemade ice cream and celebrate the extraordinary talents and abilities of our Howdy Heroes. Just know that you already have a special place in our Howdy Hearts!
To learn how Howdy Homemade Ice Cream is positively impacting the local community, stop by our location to say hello or join our monthly membership program! You can help support what we do every step of the way.