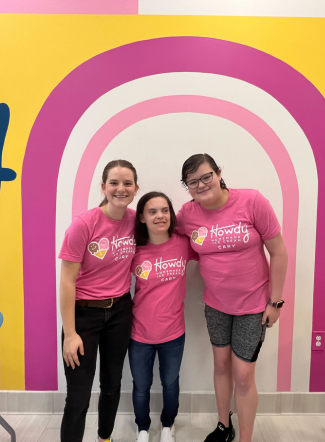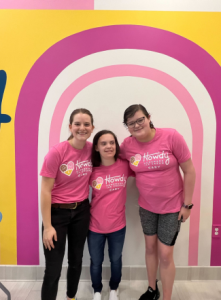 What do you get when you mix the best Raleigh, NC ice cream with inclusivity in the workplace and add some community involvement on top? The secret formula for Howdy Homemade Ice Cream's business model! A delicious product that makes people happy while also giving back to the intellectual and developmental disabilities (IDD) community. But before we get into the sweet details of the business, let's talk about why The Triangle is such a desirable area for so many people!
If you live in Raleigh or have been fortunate enough to visit, you know just how much the city has grown throughout the years. Here you'll find some of the fastest-growing companies and communities with a combination of innovation, culture, and education driving the city's popularity. Whether you love being in a rural or an urban community, there's something for everyone in The Triangle area.
Raleigh is home to a large collection of diverse and inclusive businesses. In fact, the city places third among 100 of the country's largest metropolitan areas when it comes to the success of small, local businesses – this demonstrates the city's willingness to support the community and create a positive and welcoming environment. This is great news for any entrepreneurs who are looking to make their mark and create a legacy, while also encouraging social change.
What Is Howdy Homemade Ice Cream?
At Howdy Homemade Ice Cream, we're committed to providing top-of-the-line customer service and making everyone who walks through our doors feel welcome. We wanted to create an environment where every person feels special and valued. Then we added ice cream to the mix – after all, who doesn't love ice cream?
So, we asked ourselves, what would make our ice cream even better (we know that's a tough question!)? Sure, we pride ourselves on making fresh ice cream every day with high-quality ingredients and a variety of delectable flavors. The answer was oh, so sweet—offer equal opportunity of employment with the IDD community through non-profit support.
We believe that everyone has something to offer and needs a place to feel welcomed and valued. Our goal is to hire staff members who pride themselves on engaging with the community and serving up happiness through ice cream. Our mission is to make a positive impact on the lives of those with IDD and make sure they know they're part of something great. Everyone plays an important role in the community!
Giving Back to the
IDD
Community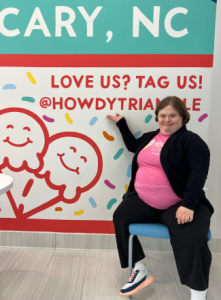 Our community involvement through IDD inclusivity in the workplace is the driving factor of Howdy Homemade Ice Cream and what makes us so unique. Did you know that 80% of those in the IDD community are unemployed? Of the 20% that are employed, most are underemployed. We knew we could do better. We strive to be the leader that inspires and motivates other companies to expand their special needs payroll.
Howdy Homemade Ice Cream shop franchise owners are stepping up to help us on our mission to create more jobs for IDD individuals – this gives them the opportunity to add structure to their life, earn their own money, and increase their self-confidence. Through hiring, training, and growing our leadership and advancement paths, we want to change the way society treats the IDD community.
Our Raleigh, NC ice cream shop location has created even more jobs for those with intellectual and developmental disabilities. The owner of The Triangle area franchise wanted to take matters into his own hands and strive for even more inclusivity in the workplace. Read on to learn how the store is making this happen!
Raleigh, NC Ice Cream
Owner Making a Difference
Phillip Lin is the owner of the Howdy Homemade Ice Cream store in the Triangle area. Phillip has always gone out of his way to support non-profits and charities. But he wondered where exactly that money was going and what impact he was really making. He wanted to find a way to provide non-profit support through inclusivity and community involvement. Being able to see the end results was of importance to him.
Working with Catering By Design, he hired someone with IDD–this individual has been employed by the company for nearly eight years now! Phillip found out about Howdy Homemade Ice Cream through this employee's mother, who had seen a story about the business on TV. Phillip knew this was his chance to make an impact by opening his own franchise.
Companies that hire employees with IDD need to adjust their backend process to accommodate a diverse set of needs. Phillip knew he needed to make his store as inclusive as possible. For example, if an employee needs to serve a scoop of vanilla ice cream, but they can't read well enough to decipher which is the right flavor, there needs to be a way for them to perform their job properly and confidently.
Once Phillip understood his shop's inclusivity pain points, he took action. At his Howdy Homemade Ice Cream location in Raleigh, he accommodated changes in the backend process and created solutions for every individual to thrive in the workplace. He also went the extra mile to have an adult changing station in his shop for those who need it.
Phillip sees this as only the beginning of making a solid change for those with IDD in the community! He plans to partner with schools and other non-profits to bridge the gap in support for the IDD community and raise the standards for inclusivity in the future.
Support Our Store With Something Sweet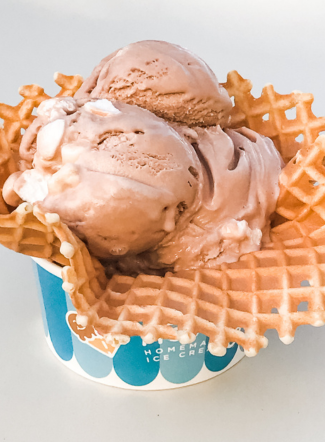 Now that you know the story of Howdy Homemade Ice Cream and why IDD community involvement is at the core of everything we do, why not stop by and visit us? If you live in the Raleigh, NC area we're ready to welcome you with big smiles and scrumptious scoops. Keep up with Howdy Homemade Ice Cream and learn more about our initiatives by visiting our website.
We're looking forward to serving up some delightful homemade ice cream sprinkled with extra love!